Libretto Workshop​ - July 2015
The Post at 750 Hamilton, July 2015 Vancouver, BC

​
​​​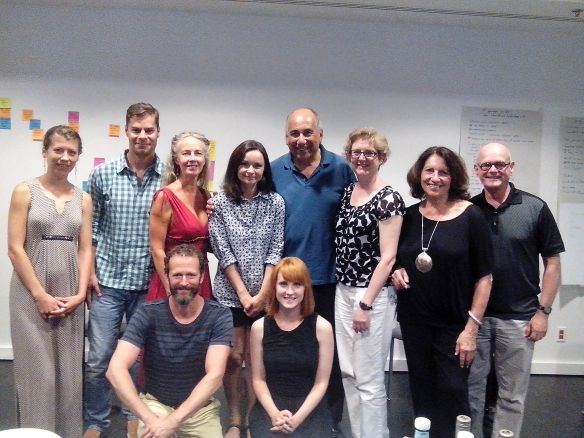 A three-day libretto workshop was held for the Wild Dogs opera at The Post, home to Music on Main in Vancouver, Canada. Over the three days, dramaturge Ann Hodges led the team of six actors and librettist Val Brandt through a thorough process that delved into the structure of the opera and the integrity of the dramatic arc in relation to the original novel. Each participant examined their character's personal story as it related to each of the other characters and the overall story. Over the three days librettist Val Brandt managed revisions and re-writes that could be explored and discussed the following day. The libretto is well on its way with a solid dramatic arc that over the coming months Val will continue to refine as composer Anna Pidgorna prepares to begin the composition process.
​
Top left: Composer Anna Pidgorna, Kyle Jespersen, Heather Pawsey, Julia Arkos, David Adams, Dramaturge Ann Hodges, Librettist Val Brandt, and Producer Robert Carey. Bottom left: Shawn Macdonald and Kayla Dunbar
Spirit of the Pack - 2016
​Composer Anna Pidgorna goes into the studio to experiment with vocalizations to create ​'The Spirit of the Pack'.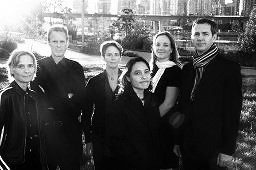 Standing Wave joins the Wild Dogs opera creative team - 2016
​​​​Six of Vancouver's most sought-after musical multitaskers join composer Anna Pidgorna and librettist Val Brandt as the opera moves into the composition workshop phase.
Fundraising Initiative - 2016
Check out our innovative fundraising campaign to raise funds for upcoming Wild Dogs workshops at
Copyright ® 2016 black bachx opera lab website
Music Workshop - November 2016
The Post at 750, November 2016 Vancouver, BC
​with Carla Huhtanen, soprano, and the musicians of Standing Wave.
​​ ​
Exciting and productive days for all of us! This was our first chance to hear and explore the magical world that composer Anna Pidgorna has created for the scenes in the deep wood. Lily, a brain-damaged young woman, searches for, then lives with the pack of wild dogs. She gradually replaces her words with the yips, growls and howls of dogs, she communes with frogs, and experiences a freedom she cannot have in the 'outside' world.
Anna's imaginative music, together with the brilliance and bravery (how do you make trees creak, turtles splash, icicles snap?) of Standing Wave chamber ensemble, provided a rich soundscape for Carla's translucent voice and deeply moving portrayal of Lily. We can't wait for audiences to hear the ingenious 'frog chorus'!



New Promo Video - 2016
Internationally recognized arts photographer and videographer David Cooper created this short provocative video for Wild Dogs that evokes our innate desire to domesticate the wildness of the human heart in this provocative new opera.
May 24, 2017 - The Orpheum Annex - Vancouver
Standing Wave and black bachx opera lab presented WILD with excerpts from the new chamber opera Wild Dogs

This was the public's first opportunity to hear excerpts from Wild Dogs opera performed in concert with Vancouver's Standing Wave ensemble and special guest, soprano Carla Huhtanen (Toronto).